A common used car certification label that most consumers are aware of is Certified Pre-Owned (CPO). However, some car dealerships offer another type, known as Q-Certified, which is also associated with warranty coverage (furnished by an affiliate company), although it is not provided by the manufacturer.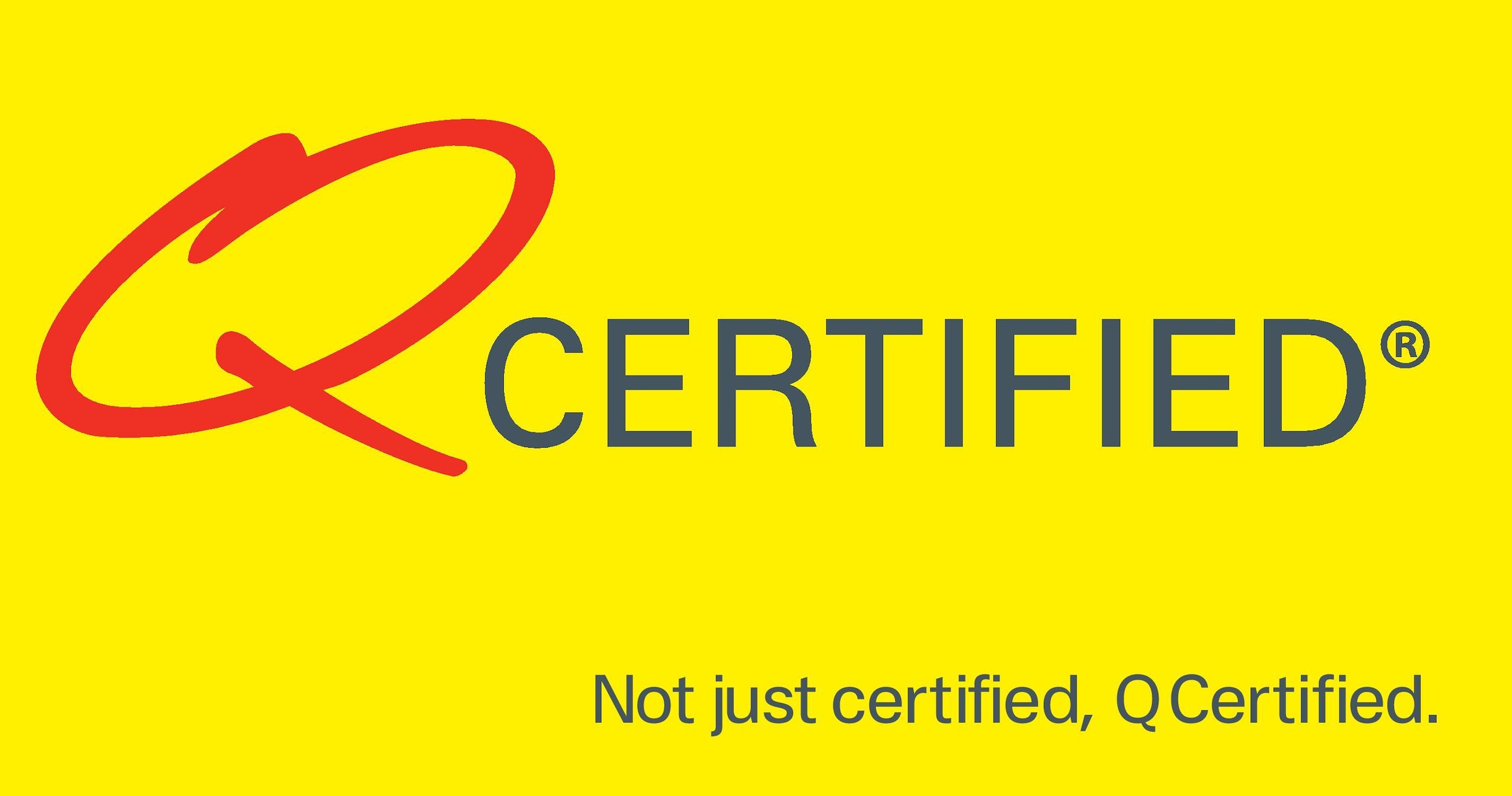 Q-Certified Vehicles
Each used vehicle sold as Q-Certified needs to meet the following requirements:
129-point inspection performed by ASE Certified Technicians to assess the quality of components such as: exhaust system, tires, drivetrain, engine, transmission, brakes, steering, suspension, heating and cooling systems
Thorough vehicle history evaluation by Experian Automotive (providers of Auto Check) to ensure that the car receives a clean vehicle title report. For examples
Vehicles must be inspected to make sure that they do not have DMV (Department of Motor Vehicle) reports of issues such as fires, salvage, lemon histories, odometer issues, or flood damage.
Cars are required to meet or exceed reconditioning standards
Purchasers of Q-Certified vehicles will then receive a pre-owned vehicle inspection report based on the above criteria.
Q-Certified Dealerships
Dealerships who are part of the Q-Certified program must uphold a common set of standards.
(1) Each dealership needs to have technicians who have completed Q-Certified training so that they can adeptly perform detailed and comprehensive inspection and reconditioning processes
(2) Q-Certified dealerships are routinely evaluated by an independent third party for quality control to make sure that the are in compliance with Q-Certified standards.
Warranty
In most cases, a Q-Certified warranty will cover the powertrain on a limited bases. For example, at Team One Toyota which carries an
impressive array of used cars
, a Q-Certified Warranty covers a two year period or 100,000 miles
Other warranty terms include the following:
(1) a required deductible per visit
(2) nationwide protection within Canada and the United States, including Alaska and Hawaii
(3) a list of customer responsibilities for maintenance and repair
Customers are responsible for servicing their vehicle at recommended mileage intervals, and as defined by the manufacturer's manual. They are also responsible for keeping copies of repair orders which document the services performed during the coverage period.
Customers are also required to return to their Q-Certified Authorized Dealership (or affiliate) for repairs covered under their warranty.

Benefits
Customers receive 1year memberships to Road America's Auto Assist Program which offers help 24 hours and 7 days a week. Members can anticipate the following benefits:
Roadside Assistance
Customers are reimbursed up to $50 per occurrence of covered roadside assistance.
When towing is required, vehicles will be transported to the nearest Q-Certified repair facility
Flat tires are removed and replaced with the member's spare tire
Battery service includes jump starts to revive failed batteries
Lockout assistance is provided to help regain entry to the vehicle when keys are locked inside
Gas, oil, fluid and water are delivered during emergency situations
Emergency Travel Expense
If a member experiences mechanical failure more than 100 miles away from their residence, they will receive up to $1000 in reimbursement for emergency transportation expenditures, meals and lodging. Exceptions include California and New York
Reimbursement And Tire Hazard Protection
Membership includes coverage of repair costs up to $50 or replacement costs up to $250 per tire ( due to road hazards such as debris, potholes, cracks and breaks).
However the Tire Hazard Protection will be void, if the tire wear reaches 3/32 inch during the one year period of overage. This protection plan is not applicable in the following states: Florida, Maryland, New York, Tennessee, Washington and California.
Used cars, which were once new, are now being built for reliability and longer lifespans. Furthermore, with programs like CPO and now, Q-Certified, today's purchasers of pre-owned vehicles are offered more peace of mind than ever.